DISCOVER COASTAL GEORGIA
A LEADING REGION IN THE SOUTHEAST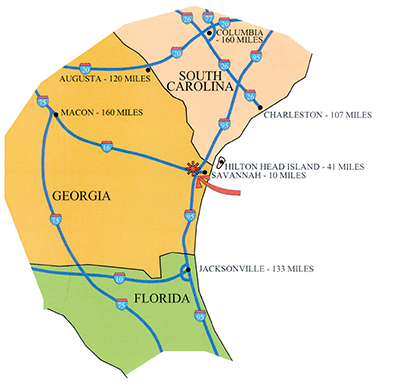 Savannah is growing westward, Pooler is growing southward — and Blakely Commons is strategically situated along both of those paths of opportunity.
The region is home to Gulfstream Aerospace Corporation, the area's largest employer and builder of the world's fastest and most technologically advanced civilian aircraft. Other major companies in Pooler include Mitsubishi Hitachi Power Systems and JCB North America. The Savannah/Hilton Head International Airport serves two million passengers per year, and the newly-opened Tanger Outlets boasts 85 designer stores. Nearby, Savannah's National Landmark Historic District attracted 13.5 million visitors last year.
Considered one of the most beautiful cities in the nation, Savannah attracts new resident and visitor numbers that exceed the national average every year. Additionally, Savannah boasts a diverse and strong economy that has enjoyed steady growth over the past decade. This blends with a high-quality, low cost of living and stunning natural beauty to create a location that is truly unique in the nation. Its cultural, artistic, athletic and recreational experiences give life an eclectic and energetic feel.
Other suburban areas outside of Savannah are also experiencing dramatic growth. Statesboro, home to Georgia Southern University, and Bluffton, SC, home of world-class development Palmetto Bluff, are dynamic communities attracting an ever-increasing number of affluent residents. The fifteen counties within a 30-minute drive of the Blakely Commons campus are home to more than 625,000 potential patients and are experiencing population growth six times greater than that of Chatham County, in which Savannah is located.
---
AREA HIGHLIGHTS
Savannah's ideal location on the Atlantic Ocean in the southeastern part of the United States puts 70 percent of the U.S. population within a two-day trip by ground, water, rail or air.
Savannah is located in the No. 1 state for doing business according to Site Selection and Area Development magazines. Southern Business & Development magazine called Savannah "A Top Ten Southern Market for Fostering Technology."
Logistics Today named Savannah "the most logistics friendly city in the nation" three years in a row, and Area Development magazine named Savannah "Top 5 for Best Cities with Port-related Intermodal Sites."
The Port of Savannah, located west of the city, is the fourth largest container port in North America and the second busiest — and fastest-growing — port on the continent.
Savannah has a presence of nearly 30 Fortune 500 companies. Major manufacturers include Gulfstream Aerospace Corporation, Mitsubishi Hitachi Power Systems, JCB North America, Georgia-Pacific Corporation/Fort Howard Group, Imperial Sugar, Weyerhaeuser, International Paper, Brasseler USA, Colonial Oil, and BASF Corp Catalyst.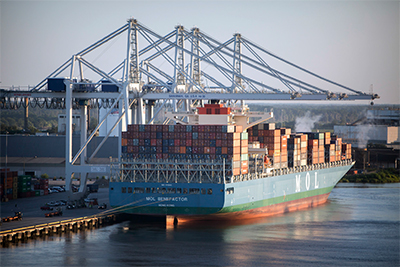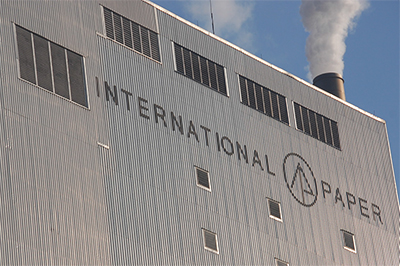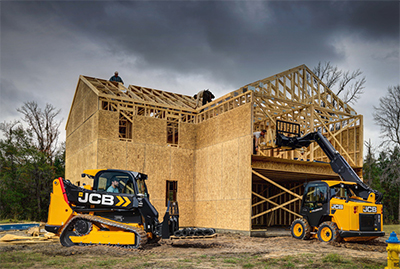 ---
AREA HIGHLIGHTS
The region's talent pipeline includes a workforce of nearly 416,000 within 60 miles of Savannah. With a median age of 34.8, this workforce is young, diverse and highly skilled.
With six colleges and universities, Savannah is truly a center of education. These institutions of higher learning include Georgia Southern University (Armstrong Campus), Georgia Tech Savannah, Mercer University School of Medicine (Savannah Campus), Savannah College of Art and Design, Savannah State University and Savannah Technical College (ranked number one technical college in Georgia.)
Fort Stewart, located in the city of Hinesville (south of Savannah) and covering 280,000 acres, is the largest, most-effective and efficient training base east of the Mississippi. More than 25,000 soldiers are based at Fort Stewart and Hunter Army Airfield, located within the city of Savannah.
770,000 veterans call Georgia home. In fact, the Peach State is home to the fourth largest population of veterans nationwide. In addition to those returning to Georgia, more than 10,000 service members will be transitioning from the state's army installations; 4,000 from Fort Stewart alone.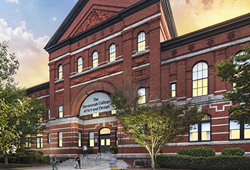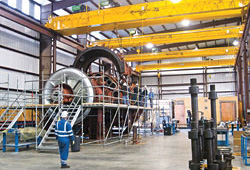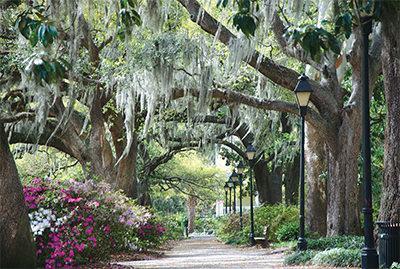 In 2016, Travel + Leisure Magazine ranked Savannah #3 of its list of Best Cities in the United States, and #9 in the World.
---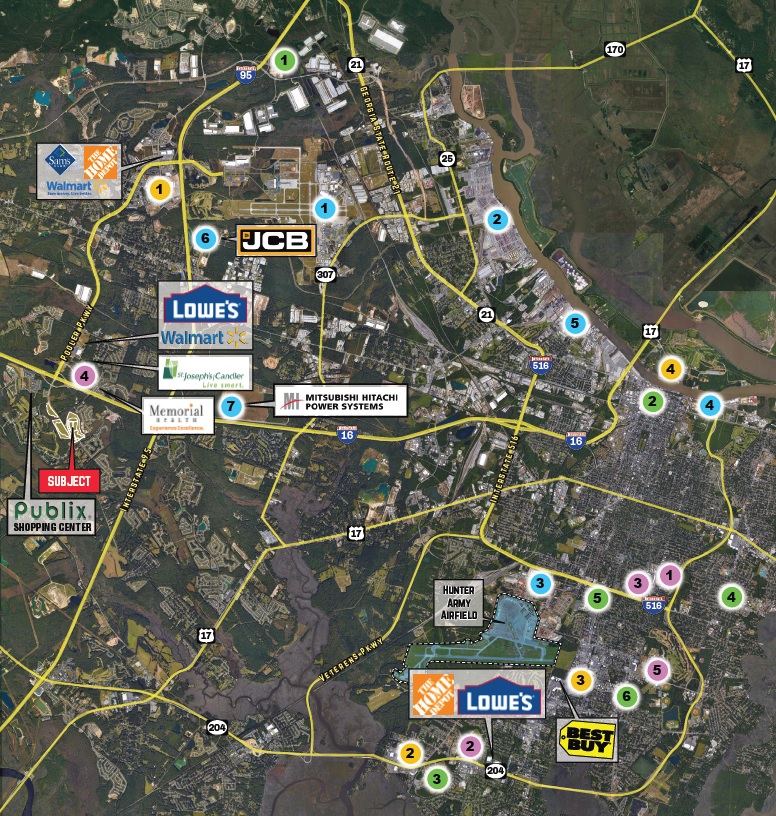 AERIAL – 10 MILE RADIUS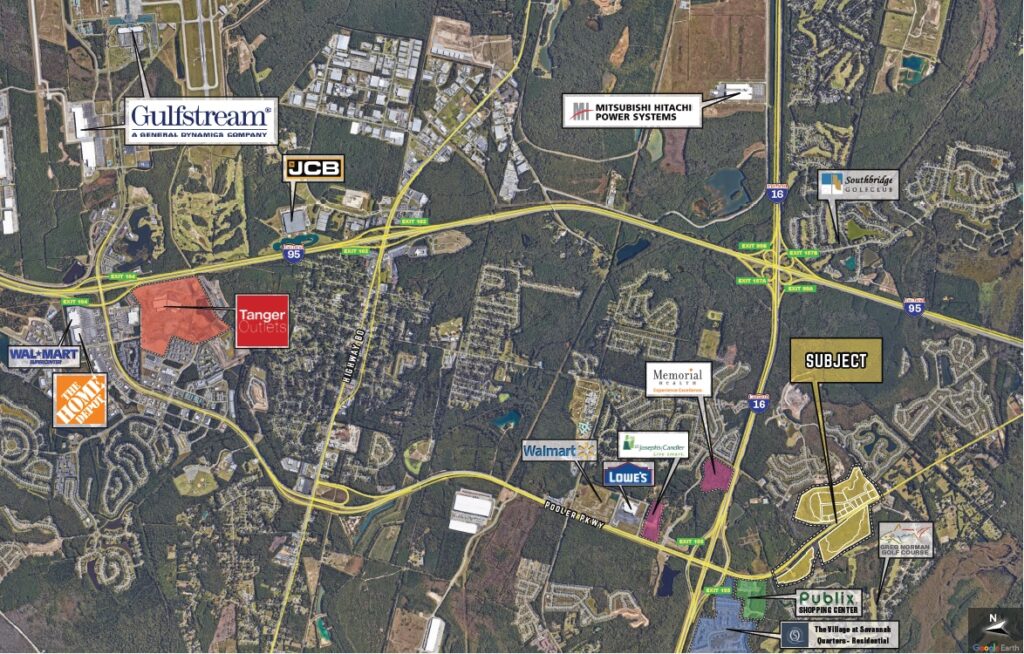 AERIAL – 5 MILE RADIUS
UNIVERSITIES/COLLEGES
Georgia Tech
210 Technology Circle, Savannah, GA 31407
SCAD
342 Bull Street, Savannah, GA 31401
Georgia Southern University (Armstrong Campus)
11935 Abercorn Street, Savannah, GA 31419
Savannah State University
3219 College Street, Savannah, GA 31404
Savannah Technical College
5717 White Bluff Road, Savannah, GA 31405
South University
709 Mall Boulevard, Savannah, GA 31406
EMPLOYMENT CENTERS
Gulfstream Aerospace
500 Gulfstream Road, Savannah, GA 31408
Georgia Ports Authority/Port of Savannah
2 Main Street, Garden City, GA 31408
Fort Stewart Army Base/Hunter Army Airfield
525 Leonard Neal Street #6010, Savannah, GA 31409
Georgia Pacific
151 Wahlstrom Road, Savannah, GA 31404
International Paper
1200 W Lathrop Avenue #201, Savannah, GA 31401
JCB North America
2000 Bamford Blvd, Pooler, GA 31322
Mitsubishi-Hitachi Power Systems America
1000 Pine Meadow Dr, Pooler, GA 31322
HEALTH
Memorial Hospital
4700 Waters Avenue Savannah, GA 31404
St Joseph's/Candler Hospital
11705 Mercy Boulevard, Savannah, GA 31419
Candler Hospital Campus
5353 Reynolds Street, Savannah, GA 31405
Memorial Health
101 W Mulberry Boulevard #100, Pooler, GA 31322
South Coast Medical
1326 Eisenhower Dr #1, Savannah, GA 31406
RETAIL
Tanger Outlet
200 Tanger Outlet Boulevard, Pooler, GA 31322
Savannah Mall
14045 Abercorn Street, Savannah, GA 31419
Oglethorpe Mall
7804 Abercorn Extension, Savannah, GA 31406
Broughton Street
Broughton Street, Downtown Savannah, GA 31401
---
ABOUT BLAKELY COMMONS
Blakely Commons, a 75-acre live/work/play community conveniently located in Pooler, Georgia, will offer space for a variety of businesses, including health and wellness, retail,
professional and medical. The development is centrally located near the intersection of I-95 and I-16 and is also bounded by Pooler Parkway. These connectors allow for easy access to downtown Savannah, the Port, Gulfstream, and many other major employers in the region.
Pooler's population has increased more than 200% in the last 10 years, and it's still growing at a rapid rate. Adjacent to the Blakely Commons campus, luxury golf community Savannah
Quarters offers a Greg Norman Signature Golf Course and other upscale amenities. There exists a large demand for retail around the site, with a Publix grocery store being developed nearby.
Additionally, St. Joseph's/Candler Hospital and Memorial Hospital are both planning facilities less than 2 miles from the Blakely Commons campus. These two facilities will have a huge additional draw for the region, greatly increasing demand for retail in the area.
Blakely Commons is named in honor of Dr. William Blakely, who served the Pooler community near the turn of the century. Blakely Commons will follow his philosophy of wellness and a strong sense of community.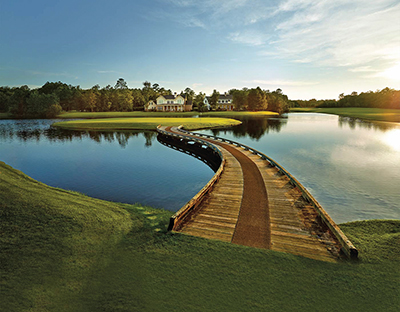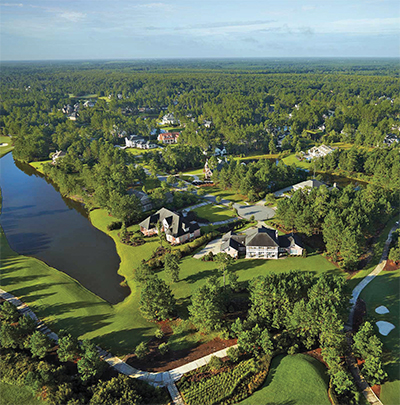 "Blakely Commons is the missing piece of the puzzle"

Pooler Mayor, Mark Lamb
---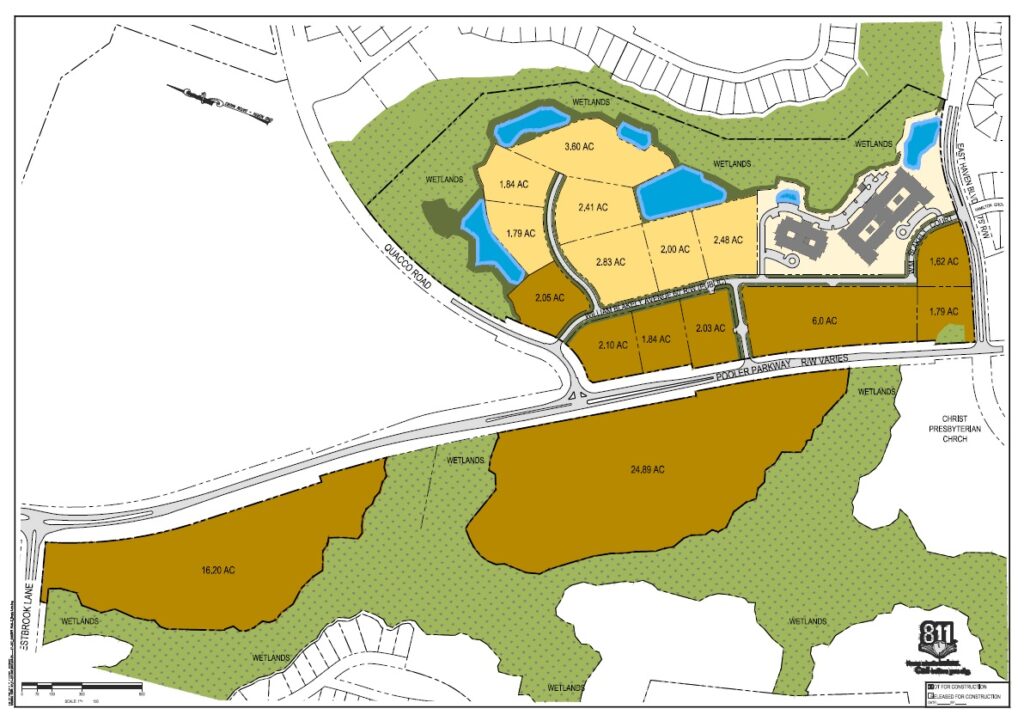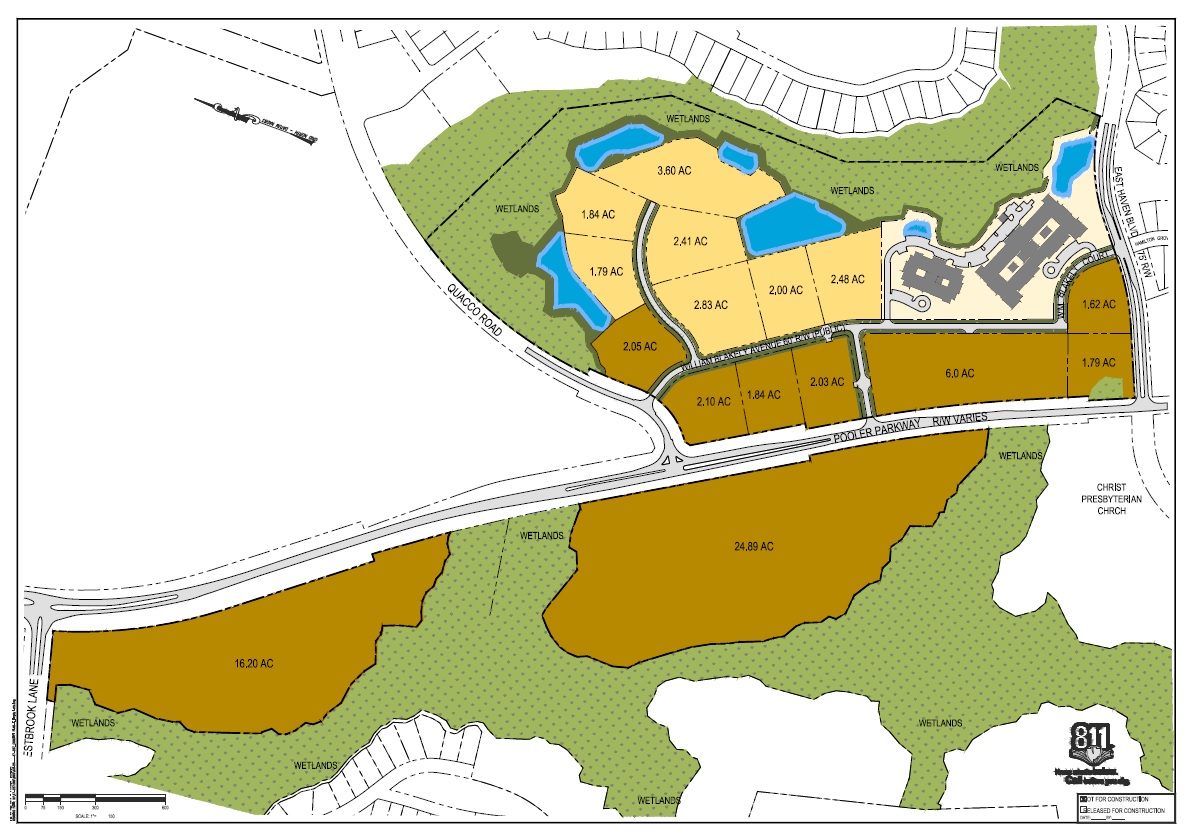 AERIAL – 5 MILE RADIUS
---
BLAKELY COMMONS
PHASE 1 – SHEPHERD LIVING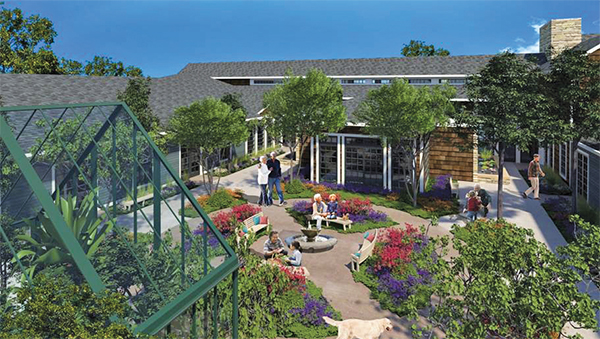 The first phase of Blakely Commons is anchored by a ten-acre residential care community called Shepherd Living at Savannah Quarters.
Shepherd Living presents 86,000 square feet within a ten-acre residential community with services and care amenities; and eleven floor plans from which to choose.
Based in Miami Beach, Florida, Shepherd Health provides forward-thinking, technology-driven and cost-effective communities that specialize in personalized care and wellness for seniors. Shepherd Health also offers enhanced levels of care through their state-of-the-art Memory Care communities.
Memory Care communities are stand-alone residences with all the amenities of the rest of the community — plus an enhanced level of care. This is where residents and their families enjoy all that Shepherd Living has to offer in a state-of-the-art, secure and fully monitored environment. With one of the highest staffing ratios in the industry, families can rest assured their loved ones are in good hands.
Along with superior housing and healthcare services, Shepherd Living also features amazing amenities. Each accommodation offers something special to each member of the community. Relax and enjoy your day by taking advantage of the full-service salon/spa or playing on the putting green. If you feel like being outdoors, take a dip in the plunge pool, stroll the walking paths, or plant something in our greenhouse. Finish the day by enjoying a drink at the tavern, having dinner at the restaurant, then sit by the fire pit or go to the movie theater.